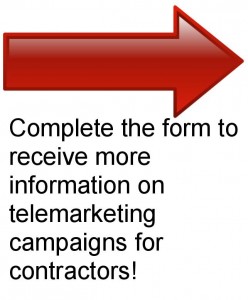 Generating various types of construction or contractor leads with telemarketing can be a great way for many different types of businesses to grow their new client bases.  There are many different services that can be called to generate leads for including anything from roofing repair leads to air conditioning maintenance.
Some of the common telemarketing campaigns for contractor and construction leads are
Roofing and hail damage leads
HVAC repair leads
Driveway sealing leads
Tree trimming and lawn care leads
Pool cleaning leads
Because the process for generating these different leads will vary here are a few general things to consider before getting a lead generation campaign underway:
Keep it simple – often the most successful campaigns are the simplest.  Short to the point and asking/verifying the fewest pieces of information possible are the way to success
At the beginning of a call use a short greeting, lets the prospect know the reason for the call and why they should care in under 25 seconds (2-3 short sentences)
Verify first, ask for new information second – Use verification questions to build report with prospects before asking for new information.  For example, "I show your address as…", versus, "how much is your monthly heating bill?"
Build up a list of frequently asked questions (FAQ) and then come up with simple answers (rebuttals) the telemarketer can give to steer the conversation back to generating a lead.
Remember the goal of a call is to generate interest, get basic information and establish a follow up contact, NOT to sell your product or service.  Keep it as simple as possible.
Contractor Lead Generation Scripts
Here are several basic outlines for different contractor lead scripts.  Remember you might need to customize the information included here to match you specific needs.  Just pay attention to the suggestions above while making edits and you should be able to create a workable first draft.